Player: Luke Gifford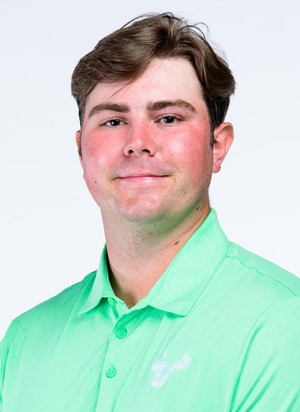 Division I PING All-Southeast Team selection (2020)


Srixon/Cleveland Golf All-America Scholar (2020)


2021 American All-Conference Team (unanimous)


SPRING 2021: AAC All-Conference Team
...competed in all nine tournaments...second on the team in scoring average (71.85) and rounds of par or better (17)...recorded three top-25 finishes and one top-10 mark...tied for 8th at the American Championship...shot an opening round of 66 and a final round of 69 to help USF secure the team championship (214 total)...season-best score of 209 at the Florida Gators Invitational.
SPRING 2020:
Division I PING All-Southeast Region Team... Srixon/Cleveland Golf All-America Scholar... AAC All-Academic Team... Member of USF Athletics Honor Roll
... Finished the season as the team leader in scoring average (71.04), rounds of par or better (15), top-10 finishes (6) and tied for the lead with seven top-25 performances in eight events... Placed inside the top five four times overall and wrapped up the shortened spring season with consecutive third-place showings at the Fort Lauderdale Intercollegiate (March 3) and The Challenge at Concession (March 10)... His solid performance at The Challenge at Concession helped co-host USF post a 13-shot, wire-to-wire in in its final event of the spring... Carded eight rounds in the 60s this season, including three in nine spring rounds.
FALL 2019:
 Led the team with a 71.07 scoring average and 10 rounds of par or better through 15 rounds... Tied for the team lead with three top-10 performances and four top-25 finishes... Earned co-medalist honors at the Marquette Intercollegiate (Oct. 8) with a 7-under 209... Tied for fifth at the Quail Valley Intercollegiate (Oct. 21) with an 11-under 205... Tied for seventh at the Intercollegiate at Innisbrook (Oct. 29) with an even-par 213... One of two Bulls to compete in all 15 rounds of the fall season.
SPRING 2019: Member of American Athletic Conference All-Academic Team
... Tied for third on the team with six top-25 finishes throughout the season... Ranked fourth on the squad in season scoring average (72.6), rounds of par or better (11) and top-10 finishes (2)... Helped USF rank second nationally on Golfstat's Top Frosh list...Best finish of the season was a third-place showing after carding a 5-under 211 at the Fort Lauderdale Intercollegiate during USF's wire-to-wire win on March 5... Was one of four Bulls to compete in all 32 rounds in 2018-19.
FALL 2018: 
Member of USF Athletics Fall 2018 Academic Honor Roll...
Competed in all four tournaments (12 rounds) and ranked fourth on the team with a 72.8 scoring average... Posted two top-25 finishes and four rounds of par or better... Shot a career best 4-under 68 in the second round of the Quail Valley Intercollegiate before tying for 17th place in the fall finale with a 3-under score (213)... Tied for 15th place at The Intercollegiate at The Grove with an even-par score (74-73-69, 216).
HIGH SCHOOL:
 Named Palm Beach County/Sun-Sentinel Player of the Year as a senior... Two-time team MVP and all-county first team selection also shined at the junior level with title victories at the 2017 Dixie Amateur and 2017 AJGA Open... As a junior, captured titles on the Florida Junior Tour at Quail Ridge and Palm Air... As a sophomore, won FJT two events - Kingsway and Don Veller.... Ranked eighth by the Junior Golf Scoreboard and 40th in the GolfWeek Junior Series in 2018.
PERSONAL: 
Son of Angela Villari and Eric Gifford... Has one younger sister, Kate... Prior to USF, logged in 100 hours of community service... Plans on majoring in business/marketing at USF.