Player: Colter Baca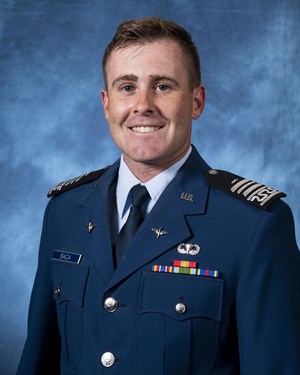 Hometown:
EDMOND
University:
United States Air Force Academy
Area of Study:
Management
Expected Graduation:
2022
Soldier Honored:
Roslyn L. Schulte
JUNIOR | 2020-21: Played in all six events and 18 rounds … season stroke average of 78.33 … season best round of 72 came at the Pizza Hut Pat Hicks Invitational … season-best tournament score of 222 (+6) came at that tournament.

SOPHOMORE | 2019-20: Played 15 rounds in five tournaments and had a season stroke average of 75.80 … collegiate career best round came in the opening round of the Gene Miranda Falcon Invitational with a 69 … his 69 tied as the best by any Falcon during the season … shot a 220 (+4) in the three-day tournament to place 37th of 104 golfers … played in the CSU Ram Masters and shot 221 (+11) … at the Les Fowler Invitational at CU, placed 15th of 33 golfers with a 150 (+10) over the two-round event … also competed in the Pizza Hut Pat Hicks Invitational and the Loyola Intercollegiate.

FRESHMAN | 2018-19: Played nine rounds and had a season stroke average of 76.44 … season-best score came at the Gene Miranda Falcon Invitational with a 227 (+11) … season-best 72 came at the CSU Northridge Invitational.

BEFORE AIR FORCE: Lettered four years in golf … three-time 6A state champion (2014, 2016 and 2017).

PERSONAL: Member of cadet squadron 18 … major is management … son of Doug Baca and Amber Randall … attended the USAFA Prep School … uncle, Aaron Looper, played for the Seattle Mariners … earned his jump wings by completing the parachute program in the summer of 2020 … in the summer of 2021, served as the director of operations for Leadership Training … is the force protection officer in his squadron … if he could have dinner with any three people, it would be George Washington, Tiger Woods and Martin Luther King, Jr. … best advice he ever received is "keep your nose down when you win and keep your head up when you lose" … favorite musicians are Cody Johnson, Cody Jinks and Eric Church … if he had a walk-up song, it would be Magic Carpet Ride by Steppenwolf … favorite sport other than golf is basketball … credits his father as having the greatest influence on his sports career … hobbies are hunting and fishing … favorite professional golfer is Tiger Woods.