Soldier Honored: Roslyn L. Schulte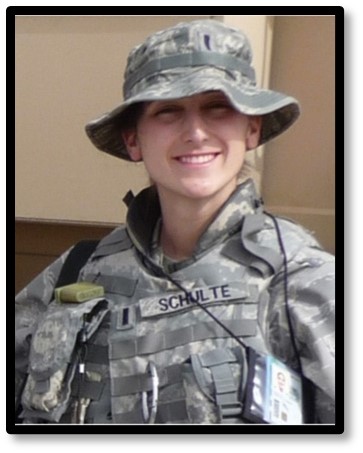 Dates:
Died May 20, 2009
Hometown:
Ladue, Mo
Branch of Service:
Air Force
Rank:
1st Lieutenant
First Lt Roslyn L. Schulte, 25, of Ladue, Mo., was assigned to the 613th Air and Space Operations Center and was deployed to the Combined Security Transition Command-Afghanistan. On May 20, 2009, she was traveling in a convoy to Bagram Airfield to participate in an intelligence sharing conference when she was killed near Kabul, Afghanistan, of wounds suffered in a roadside bomb attack.

First Lt Schulte graduated from the Air Force Academy in 2006, going into military intelligence instead of aviation. She was the 10th graduate to die in the wars in Iraq and Afghanistan, and the first female graduate to be killed in action. Every May since her passing, the Air Force Academy recognizes an outstanding cadet first class who embodies First Lt Schulte's "impeccable character, unwavering leadership and spirit of service." Her father told the St. Louis Post-Dispatch that his daughter was a natural leader who was teaching Afghan forces how to handle military intelligence.

At the Air Force Academy, First Lt Schulte majored in political science, interned for former Sen. Alan Allard, R-Colo., became a group commander — one of the academy's highest positions — and captained the lacrosse team. She captained a state championship lacrosse team at John Burroughs School in St. Louis County, with friends described her as smart, compassionate and determined.