Soldier Honored: Jaygee N. Meluat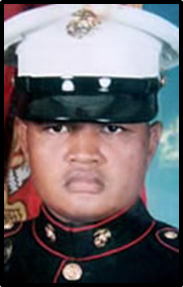 Dates:
Hometown:
Tamuning, Guam
Branch of Service:
Marine Corps
Rank:
Corporal
Corporal Jaygee Meluat, 24, of Tamuning, Guam was killed by enemy action in Anbar Province, Iraq on September 13, 2004.



A native of Palau, the youngest of 12 children had moved to Guam as a teenager.  Cpl Meluat learned how to operate and maneuver an amphibious vehicle that could transport infantrymen from land to sea. His dream was to serve the United States. Cpl Meluat was awarded the Navy and Marine Corps Achievement Medal with Combat Device, Purple Heart, among many other recognitions.

He is survived by his wife, Melanie, and his daughter. When he and his wife found out they were pregnant, they playfully tried to predict the gender of their first baby. Cpl Meluat wanted a girl, and she wanted a boy. Cpl Meluat had to miss the birth due to training, but when his wife called him after giving birth, he teased her "I told you we would have a girl, I don't know why you never listen to me." Sadly, Cpl Meluat was lost on his daughter's 3rd birthday.

Corporal Meluat's daughter is a Folds of Honor Scholarship recipient.