Soldier Honored: Cary P. Jones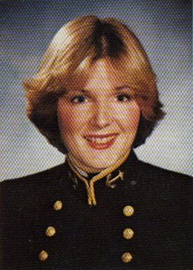 Dates:
Died on July 8, 1982
Hometown:
Gainesville, Virginia
Branch of Service:
Navy
Rank:
Ensign
Ensign Cary P. Jones of Gainesville, Va. died in a plane crash in Corpus Christi, Tx. on July 8, 1982 as two T-44 aircraft collided over the Naval Training Facility.

Ensign Jones was born on July 21, 1959 and came from a Navy background. Both her maternal grandfather, William L. Maxson of the Class of 1921 and her paternal grandfather, George Lorraine Jones Jr., of the Class of 1927, were Academy graduates, and her father, LCol. David B. Jones USAF (Ret.) was a member of the Class of 1953.

As a Naval Academy midshipman, Ens. Jones was known as an active, exuberant and energetic member of the Class of 1981. She was a battalion subcommander in her first class year, was a cheerleader for three years, took an overload in mathematics in order to pursue her master's degree after graduation.

She was survived by a sister, Lorrie, a Navy Lieutenant; and a brother, David.