Soldier Honored: James R. Patton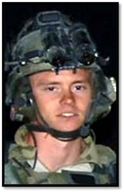 Dates:
Hometown:
Fort Benning, Georgia
Branch of Service:
Army
Rank:
Staff Sergeant
Staff Sergeant James Richardson Patton, 23, of Fort Benning, Georgia was assigned to the 3rd Battalion, 75th Ranger Regiment, Fort Benning, Georgia.  SSG Patton served during Operation Iraqi Freedom.  On April 18, 2010, SSG Patton died while conducting combat operations from injuries sustained as a result of a UH-60 Black Hawk helicopter crash.



SSG Patton enlisted in the U.S. Army in July 2004 and following completion of One Station Unit Training and the Ranger Indoctrination Program, he was assigned to Company B, 3rd Battalion, 75th Ranger Regiment at Fort Benning, Georgia. During his service with the 3rd Ranger Battalion, he served as a grenadier, fire team leader, and rifle squad leader. Patton was on his seventh deployment in support of the War on Terror. He had previously deployed twice to Iraq and four times to Afghanistan.



"Staff Sergeant Jimmy Patton was the life of his platoon and the epitome of a selfless servant," said Colonel Dan Walrath, 3rd Battalion, Ranger Regiment commander.  "He made the best of every situation regardless of circumstance and he always exuded an easy confidence that 'it could be done.'" His wife said that "he was born green, as his mom would say, he was destined to follow in his daddy's footsteps and join the Army. He was passionate about his job, as well as his family."



SSG Patton's daughter is a Folds of Honor Scholarship recipient.