Soldier Honored: Jason R. Freiwald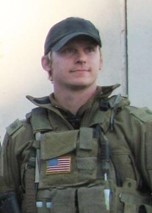 Dates:
Hometown:
Armada, Michigan
Branch of Service:
Navy
Rank:
Chief Petty Officer (Seal)
Navy Chief Petty Officer Jason R. Freiwald, 30, of Armada, Michigan, was assigned to Naval Special Warfare Development Group out of Dam Neck, Virginia. On September 11, 2008, while serving during Operation Enduring Freedom, CPO Freiwald sustained injuries during a battle with heavily armed militants and died from his wounds on September 12, 2008.

CPO Freiwald was born in Utica, Michigan. After graduating from Armada Senior High School, he enlisted in the Navy in 1996.  After completing basic training and Navy and Marine Corps Intelligence Training, CPO Friewald went to Basic Underwater Demolition/SEAL training in Coronado, California. Following that, he was sent to Airborne School in Ft. Benning, Georgia.

CPO Freiwald was originally assigned with SEAL Team 5 but then transferred to SEAL Team 3. During this time, he gained more schooling for combat including sniper school, tactical rock climbing and Arabic. CPO Freiwald was deployed multiple times in support of Operation Iraqi Freedom with SEAL Team 3. He transferred to Naval Special Warfare Tactical Development and Evaluation Squadron 2 in March of 2005.

A highly decorated SEAL and combat veteran, CPO Freiwald's awards include Bronze Star medal with combat "V" distinguishing device, Joint Service Commendation Medal with combat "V" distinguishing device, Purple Heart and a posthumous Silver Star.

CPO Freiwald's wife and daughter are both Folds of Honor scholarship recipients.