Soldier Honored: Robert L. Henderson, II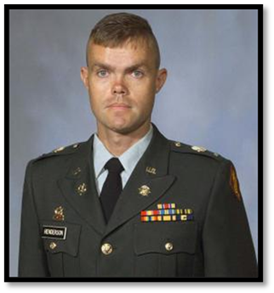 Dates:
Died April 17, 2004
Hometown:
Alvaton, Kentucky
Branch of Service:
Army National Guard
Rank:
First Lieutenant
First Lieutenant Robert L. Henderson, II, 33, was assigned to the Army National Guard's Detachment 1, 2123rd Transportation Company, Owensboro, Kentucky.  While serving during Operation Iraqi Freedom in Diwaniyah, Iraq, his convoy tried to avoid an overturned trailer and came under small arms attack.  1LT Henderson sustained gunshot wounds and was mortally wounded but continued to drive his vehicle and lead the convoy out of the ambush. He strategically repositioned his vehicle so that the other soldiers in the vehicle could return fire and warn his convoy of the impending danger and saving many lives before he collapsed.  1LT Henderson died on April 17, 2004.

1LT Henderson signed up for the Kentucky National Guard when he was 17, and still in high school. He loved serving his community, state, and country, and did so for 16 years.  He was proud to be a leader to those who served under him and was looking forward to going overseas to help make a difference in Iraq.  He was posthumously awarded the Bronze Star, a Purple Heart, and the Kentucky Distinguished Service Medal.

A graduate of Warren Central High School, 1LT Henderson attended Western Kentucky University studying in business management. He was a sales manager for the Lowe's store in Bowling Green.  His co-workers remembered him as a hard worker, committed to doing his job and helping others.  1LT Henderson was a very loyal and true person and never backed down from a challenge.  He loved his wife, and the two were expecting a son, who was born just a few short months after 1LT Henderson's passing.

1LT Henderson's son is a Folds of Honor Scholarship recipient.