Soldier Honored: Brian S. Leon Guerrero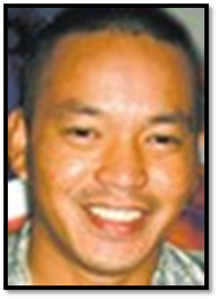 Dates:
July 10, 2008
Hometown:
Hagatna, Guam
Branch of Service:
Army National Guard
Rank:
Sergeant
Sergeant Brian S. Leon Guerrero, 34, of Hagatna, Guam, was assigned to 1st Battalion, 294th Infantry Regiment, Guam Army National Guard, Barrigada, Guam.  SGT Leon Guerrero was serving during Operation Enduring Freedom.  On July 10, 2008, the vehicle that he and two other service members were riding in was struck by an improvised explosive device.  SGT Leon Guerrero and Specialist Samson A. Mora were killed.

SGT Leon Guerrero comes from a military family, and deployed a total of three times, twice to Africa and ultimately to Afghanistan.   SGT Leon Guerrero was awarded the Bronze Star Medal and the Purple Heart for his selfless sacrifice for his country.

A humorous man, SGT Leon Guerrero loved to go fishing and barbecue, and simply have good, relaxing fun with his friends and family.  The true definition of a blended family father, SGT Leon Guerrero showed love to all his children – biological and not.  SGT Leon Guerrero's youngest son was still in the womb at the time of the Sergeant's death.  He is remembered by the older children as the greatest father, who "showed me that I can be my own person and find my voice. To not be afraid to stand up for yourself. Fight for your right and be strong."

One of SGT Leon Guerrero's children is Folds of Honor Scholarship recipient.