Soldier Honored: Caryn E. Nouv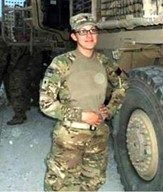 Dates:
July 27, 2013
Hometown:
Newport News, VA
Branch of Service:
Army
Rank:
Sergeant
Army Sergeant Caryn E. Nouv, 29, of Newport News, Virginia, was assigned to 10th Transportation Battalion, 7th Sustainment Brigade, Joint Base Langley-Eustis, Virginia, serving during Operation ENDURING FREEDOM.  On July 27, 2013, SGT Nouv and another soldier died of wounds caused by an improvised explosive device and small arms fire in the Ghazni province, Afghanistan.



A 2002 graduate of Tabb High School in Yorktown, Virginia, where she participated in the marching band and flag corp., SGT Nouv joined the U.S. Army in 2009 and was trained to be a signal support systems specialist.  While in Afghanistan – her first combat deployment, she worked as a convoy escort driver, often taking other soldiers outside the safety of the base.  SGT Nouv was honored with a Purple Heart posthumously for her service and sacrifice.

SGT Nouv is remembered as someone who overcame challenges, sought direction through the military and died doing a job she loved.  Like thousands of young men and women, SGT Nouv sought purpose and stability in her life and her children's lives through the Army.  She ended up being based at Fort Eustis, near where she was raised by loving adoptive parents.

Both of SGT Nouv's children are Folds of Honor Scholarship recipients.