Soldier Honored: Yance Tell Gray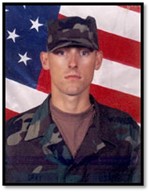 Dates:
Died September 10, 2007
Hometown:
Ismay, Montana
Branch of Service:
Army
Rank:
Staff Sergeant
Staff Sergeant Yance Tell Gray, 26, of Ismay, Montana was a member of the 1st Squadron, 73rd Cavalry Regiment, 2nd Brigade Combat Team of the 82nd Airborne Division, attached to the 1st Infantry Division.  While supporting Operation Iraqi Freedom, SSG Gray died on September 10, 2007, in Baghdad, Iraq, of injuries suffered from a vehicle rollover.

SSG Gray attended Whitney Creek Country School through the 7th grade and graduated from Plevna High School in the spring of 2000.  In June of 2000, SSG Gray proudly entered the United States Army.  He had completed three active tours of duty, in both Iraq and Afghanistan, his 4th to be completed in November of 2007.  SSG Gray received his Ranger Tab among other various leadership schools and awards to include the Bronze Star, Army Commendation Medal, Army Achievement Medal, Army Good Conduct Medal, National Defense Service Medal, Afghanistan Campaign, Iraq Campaign, Global War Expeditionary Award, Global War Service Award, NCO Ribbon, Army Service Ribbon, Overseas Service Ribbon, Expert Infantryman's Badge, Combat Infantryman's Badge, Parachutist's Badge, and Expert Rifleman's Badge.

SSG Gray was his happiest when he was giving to others and was a protector to all he knew. Pastor Pat Linger of the Ismay Community Church recounted Gray's upbringing on the family ranch and his determination from the age of 5 to enlist in the military.  "Tell wasn't a man of words. But the words he spoke meant something," Linger said. "It wasn't out of ruthlessness that he entered the military. ... This was his job, and he did it well."

SSG Gray's daughter is a Folds of Honor Scholarship recipient.