Soldier Honored: Timothy Douglas Sayne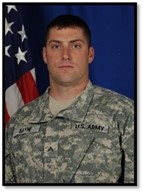 Dates:
Died September 18, 2011
Hometown:
Effingham, Illinois
Branch of Service:
Army
Rank:
Sergeant
Sergeant Timothy Douglas Sayne, 31, was assigned to the 5th Squadron, 1st Cavalry Regiment, 1st Stryker Brigade Combat Team, 25th Infantry Division, Fort Wainwright, Alaska.  In April 2011, his unit was deployed to Afghanistan in support of Operation Enduring Freedom.  SGT Sayne died September 18, 2011, in Kandahar province, Afghanistan, of injuries suffered when insurgents attacked his unit with an improvised explosive device.

SGT Sayne was a resident of Effingham, IL, and graduated from Effingham High School. He joined the U.S. Army in February 2008 and graduated from Basic Training and Advanced Individual Training at Fort Knox, KY.  SGT Sayne embodied the Army's core values of courage, selfless service, loyalty, respect, honor, integrity and duty.  He was awarded the Bronze Heart and Purple Star.

"He (SGT Sayne) was a person with a presence and personality that left an indelible mark on those he met and especially those with whom he served. His devotion to his family was unmistakable and only strengthened the deep sense of respect that those who knew him well share," said his platoon sergeant.  SGT Sayne's wife found this to be true of her husband "he cared about others before himself, and he always wanted to help those in need. Tim always wanted to serve our country like his grandpa did."  A generous man, SGT Sayne was known to be willing to give his last dime if someone needed it.

Two of SGT Sayne's sons are Folds of Honor Scholarship recipients.