Soldier Honored: Daniel G. McCollum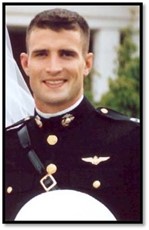 Dates:
Died January 9, 2002
Hometown:
Irmo, South Carolina
Branch of Service:
Marine Corps
Rank:
Captain
Captain Daniel McCollum, 29, of Irmo, South Carolina was assigned to the Marine Aerial Transport Refueler Squadron 352, based at Marine Corps Air Station Miramar California. Capt McCollum died on January 9, 2002, while serving during Operation Enduring Freedom when the KC-130 tanker plane he was co-piloting crashed into a mountainside in Pakistan.

Capt McCollum, a South Carolina native, graduated in 1992 from Irmo High School where his military service began in the ROTC program. After high school, he continued his education at Clemson University and graduated in 1996 with a degree in Mechanical Engineering. According to his friends, McCollum dreamed of flying from his earliest years. In fact, while he was at Clemson, he began not only his involvement with the Marines but also his participation in the University's Dixie Skydivers. He was commissioned in January 1997 after graduating in 1996. In April 1997, he reported to Quantico, Virginia for The Basic School. Upon graduation from TBS, he reported to flight training at NAS Pensacola, Florida followed by advanced flight training at Corpus Christi, Texas. He earned his wings in July of 1999. His next duty station was VMGRT-253 at MCAS Cherry Point, North Carolina. Here he began his initial training in the KC-130. He then reported to VMGR-352 where he completed his RP training and was designated a T3P. Capt McCollum accumulated over 500 flight hours and flew in support of Operation Enduring Freedom.

"He was a very gentle man, a very kind man. Patient. I have been saying that to know Dan is to love Dan, "said his wife, Jennifer. Capt McCollum leaves behind his wife and son, whom he never got a chance to meet.

His son is a recipient of the Folds of Honor Scholarship.