Soldier Honored: Travis W. Grogan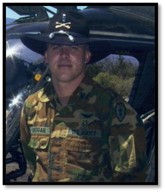 Dates:
Died on November 27, 2004
Hometown:
Moore, Oklahoma
Branch of Service:
Army
Rank:
Chief Warrant Officer II
Chief Warrant Officer II Travis Wayne Grogan, 31, was assigned to the 3rd Squadron, 4th Cavalry Regiment, 25th Infantry Division (Light), in the Schofield Barracks, Hawaii.  On November 27, 2004, while serving during Operation Enduring Freedom, CW2 Grogan's aircraft crashed while on a supply mission.  CW2 Grogan, Lieutenant Colonel Michael J. McMahon, and Specialist Harley D.R. Miller all died in the crash.

An only child, CW2 Grogan grew up in Moore, Oklahoma.  He descended from a long line of servicemen, with relatives who served in Korea, World War I and the Civil War. While a junior in high school, CW2 Grogan signed on with the Navy. For the next year and a half, he worked in his recruiter's office, helping enlist other teenagers. Once enlisted, CW2 Grogan spent the next nine years as a search-and-rescue swimmer.  Some of that time was spent at Norfolk Naval Station.  Later in 2000, he switched careers and transferred to the Army. There, CW2 Grogan was able to tap into one of his childhood loves: helicopters.  He soon graduated as a pilot and began to fly OH58D Kiowa Warriors.  In 2001, he was stationed at Schofield Barracks on the Hawaiian island of Oahu.  He was sent to Afghanistan in April 2004.  CW2 Grogan was awarded the Hawaii Medal of Honor and the Bronze Star for his selfless service.

CW2 Grogan is remembered as trustworthy and stable.  His love for and history of competitive swimming is what led CW2 Grogan to initially join the Navy.  He was a strong willed and determined man, but also a very kind and warm person. He would always go out of his way to help anyone he could whenever he could.  A family man, CW2 Grogan enjoyed spending time with his wife and two children.

Both of CW2 Grogan's children are Folds of Honor Scholarship recipients.