Soldier Honored: Joel L. Murray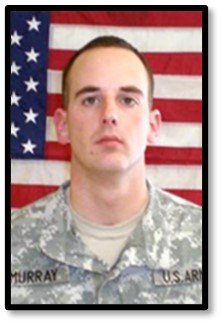 Dates:
Died September 4, 2007
Hometown:
Kansas City, MO
Branch of Service:
Army
Rank:
Sergeant
Army Sergeant Joel L. Murray, 26, of Kansas City, Mo., was an infantryman assigned to the 2nd Battalion, 16th Infantry Regiment, 4th Infantry Brigade Combat Team, 1st Infantry Division, Fort Riley, Ks. Murray died of wounds sustained when an improvised explosive device hit the Humvee he was a passenger in, near Sadr City, Iraq while on his second deployment in support of the Global War on Terrorism.

SGT Murray grew up in Salina, Kansas until his junior year when he moved to a small town near Beloit, Kansas. He graduated in 1999 from Beloit High School where fellow classmates remember him as funny, smart, and loyal. After high school, SGT Murray went to college for a brief period, then joined the Army in January of 2003. His first post was in Seoul, South Korea. He always knew is job as an infantryman was very dangerous but excelled despite the danger.

Sgt. Murray is survived by a wife and son, who is a recipient of the Folds of Honor Children's Fund Scholarship.