Soldier Honored: Michael C. Anderson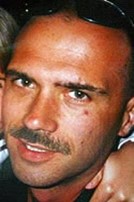 Dates:
Died May 2, 2004
Hometown:
Daytona, Florida
Branch of Service:
Navy
Rank:
Petty Officer 2nd Class
Navy Petty Officer 2nd Class Michael C. Anderson, 36, of Daytona, Florida, was assigned to the Naval Mobile Construction Battalion 14, based out of Jacksonville, Florida. On May 2, 2004, while serving during Operation Iraqi Freedom, PO2 Anderson was one of five sailors killed by hostile fire in Anbar province, Iraq.

A 1986 graduate of Oshkosh North High School, he and his wife, Karen, were just ready to celebrate their 8th wedding anniversary when he died. Anderson's daughter, Brandi, said. "I remember things like playing in sports in the yard, playing Pretty, Pretty Princess, where the rings barely fit his large knuckles, and watching television together; we were inseparable.

"My dad was a Navy Seabee who followed their motto 'Can Do' in every aspect of his life. One thing my dad taught me very early on was 'never give up'.

Anderson's daughter is a Folds of Honor Scholarship recipient.