Soldier Honored: Jonathan K. Dozier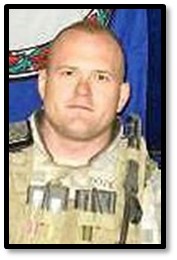 Dates:
Died January 9, 2008
Hometown:
Chesapeake, VA
Branch of Service:
Army
Rank:
Staff Sergeant
Army Staff Sergeant Jonathan K. Dozier, 30, of Chesapeake, Va., was assigned to the 3rd Squadron, 2nd Stryker Cavalry Regiment, 1st Armored Division, Vilseck, Germany. He was working with the Multi-National Division – North, which was headquartered in Tikrit, about 80 north of Baghdad. On January 9, 2008, SSG Dozier was among six soldiers killed when an improvised explosive device was detonated in the house they were searching during combat operations. An incident in which a building is booby-trapped is described by the Army as a "house borne improvised explosive device" or HBIED.

A Virginia native and graduate of Great Bridge Schools, Jonathan Dozier entered the military in 1997. He came from a long line of family who had served. His great grandfather fought in the Civil War, his grandfather served during World War II, and his father spent 28 years in the military. A member of Sigma Phi Epsilon, he studied international affairs at Middle Tennessee State University before reenlisting in April of 2005 as an infantryman at Fort Benning. His military service took him to Georgia, North Carolina, Washington, and to Germany in September of 2006 where he entered a scout platoon. He was deployed to Iraq in 2007. The Bronze Star, Purple Heart and National Defense Service Medal are among his numerous awards and decorations.

SSG Dozier is survived by his wife and daughter, who is a Folds of Honor scholarship recipient.