Soldier Honored: Nathan D. White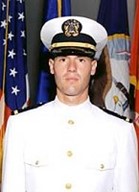 Dates:
April 2, 2003
Hometown:
Mesa, AZ
Branch of Service:
Navy
Rank:
Lieutenant
Navy Lieutenant Nathan D. White, 30, of Mesa, Arizona, died on April 2, 2003, while serving during Operation Iraqi Freedom, when the F/A-18C Hornet fighter jet he was piloting was shot down.

Aviation was LT White's passion. "Regardless of the destination, I feel I am trained and prepared for any mission or contingency," he wrote in an e-mail to his family. LT White's father was an Air Force pilot who flew C-130s during the Vietnam era and was surprised when his son decided to skip law school in favor of pilot school."

LT White grew up in Abilene, Texas, where he was a 1991 graduate of Cooper High School. One of eight siblings, he graduated from Brigham Young University and spent two years as a Mormon missionary in Japan. While there, LT White became fluent in Japanese, fell in love with the culture and met his wife.  His wife, Akiko, and children Courtney, Austin and Zachary are in Japan.