Soldier Honored: Robert E. Hall, Jr.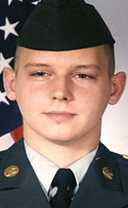 Dates:
Hometown:
Branch of Service:
Army
Rank:
Specialist
Specialist Robert E. Hall, Jr., 30, of Pittsburgh, Penn., was assigned to the 467th Engineer Battalion, U.S. Army Reserve at Greenwood, Miss., and served during Operation Iraqi Freedom.  On June 28, 2005, Spc. Hall was killed when an improvised explosive device detonated near his dismounted position in Dujayl, Iraq.

A 1993 graduate of North Hills High School, Spc. Hall worked as a driver for Waste Management Inc in his civilian life. He enlisted in the Army Reserves in 1997, served for three years and was discharged in 2000. Spc. Hall was a member of the Individual Ready Reserve and was recalled to active duty to fill a vacancy in a Mississippi unit. He is decorated with a Purple Heart Medal, a Bronze Star Medal, an Army Commendation Medal, a National Defense Service Medal, an Iraq Campaign Medal, a Global War on Terrorism Ribbon, an Armed Forces Reserve Medal, an Army Service Ribbon and an Army Overseas Service Ribbon.

Spc. Hall played soccer in high school and loved video games, said his sister. She described her brother as "a very quiet guy," a serious man who kept to himself and hardly ever smiled. But he was extremely devoted to his 3-year-old daughter and loved to spend time with her. "He'd do anything for her," she said.

Spc. Hall's daughter is a Folds of Honor Scholarship recipient.