Soldier Honored: Christopher M. Hake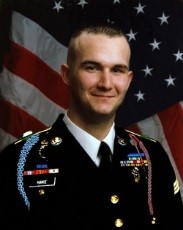 Dates:
Hometown:
Branch of Service:
Army
Rank:
Staff Sergeant
Staff Sergeant Christopher Hake, 26, of Enid, Oklahoma, was a squad leader on his second tour in Baghdad, Iraq, serving with the 4th Battalion, 64th Armor Regiment, 4th Brigade Combat Team, 3rd Infantry Division and served during Operation IRAQI FREEDOM. Staff Sgt. Hake and four other members of his squad were on patrol in southern Baghdad when their vehicle encountered an improvised explosive device. Four of the five men died as a result of wounds suffered from the blast.

A 2000 graduate of Oklahoma Bible Academy, Staff Sgt. Hake was known as an energetic, fun-loving student who played basketball and baseball. Shortly after his high school graduation, Hake joined the Army and was assigned to the "Old Guard" unit at Fort McNair in Arlington, Virginia. He participated in President Bush's 2001 inaugural parade and was among those called upon to clear the Pentagon after the attacks of 9/11. As a young adult, Chris enjoyed soccer, boating, skiing, music, and spending time with family and friends. He loved his job and was very proud of his accomplishments.

"He was 100 percent sure we should be there, and he talked of the love of the Iraqi people for him and his guys," said his father, Peter Hake, who also said his son loved the men in his command. "He said they would die for each other, and they did."

His wife and sone are both recipients of Folds of Honor scholarships.