Soldier Honored: Robert J. Zangas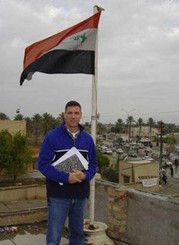 Dates:
Hometown:
Branch of Service:
Marine Corps
Rank:
Lieutenant Colonel
Lieutenant Colonel Robert J. Zangas, 44, of Butler, Pennsylvania, was assigned to the 4th Civil Affairs Group, MARFORES, Washington D.C. On March 9, 2004, Lt. Col. Zangas and two other civilians were killed in an ambush while returning to base from a women's center in Karbala, becoming the first American civilians killed during the Iraq war.

Lt. Col. Zangas enlisted in the Marines in March 1979 after graduating from the University of Colorado, where he earned his degree in Journalism. He was commissioned as a Second Lieutenant, earning his Naval Aviation Wings in 1984. Lt. Col. Zangas served in Operation Desert Storm and Operation Iraqi Freedom. After returning home from Iraq in 2003, he worked as a civilian public affairs officer, helping to restore radio and television communications in Iraq. Lt. Col. Zangas received an Antarctica Service Medal, two Combat Action Ribbons, two Armed Forces Reserve Medals, eight Letters of Appreciation, and 16 other medals and ribbons for his service in the Marines.

Lt. Col. Zangas was a gentle and affectionate man and father with this children and family, always trying to spend quality time with them. "This was a humanitarian mission to him. He was proud to be taking the freedoms of America overseas," said Col. Michael Shamp. "He was a positive, smiling man. Everyone liked him, American and Iraqi alike."

All three of the Zangas children are Folds of Honor Scholarship recipients.