Soldier Honored: Philip A. Murphy-Sweet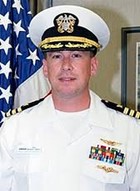 Dates:
Hometown:
Branch of Service:
Navy
Rank:
Commander
Commander Philip A. Murphy-Sweet, 42, of Caldwell, Idaho, was operationally assigned to Joint Contracting Command, Multi-National Force – Iraq. He was deployed from his permanently assigned command of Naval Inventory Control Point in Mechanicsburg, Penn., to serve during Operation Iraqi Freedom. On April 7, 2007, Cdr. Murphy-Sweet was killed by enemy action near Baghdad, Iraq.

Cdr. Murphy-Sweet started his career with the Navy as a Hospital Corpsman. He enrolled in the University of Idaho's Naval ROTC program and was commissioned as an officer after his graduation in 1991. Cdr. Murphy-Sweet was posthumously awarded the Purple Heart and the Bronze Star with Valor for his sacrifice.

A dedicated father, Cdr. Murphy-Sweet would make funny faces at his younger daughter from work via a Webcam, asked his son to keep his dad up to date on the latest gadgets, and  discussed the trials of middle school life with his older daughter.

"Phil was a great guy. He gave everything 110 percent," said Dr. Mark Michaud, a family friend. "He was a great Naval officer, a great father, and had so many plans for the future. I think Phil's sense of humor, and the way he looked at life, is what I'm going to remember and take away with this."

One of Cdr. Murphy-Sweet's daughters is a Folds of Honor Scholarship recipient.