Soldier Honored: Jason D. Cunningham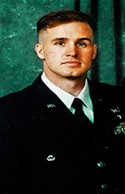 Dates:
Hometown:
Branch of Service:
Air Force
Rank:
Senior Airman
Senior Airman Jason D. Cunningham, 26, of Camarillo, Calif., was assigned to the 38th Rescue Squadron at Moody Air Force Base, Ga., and served during Operation Enduring Freedom. On March 4, 2002, SrA. Cunningham was on board one of two MH-47E Chinooks on his first combat mission to rescue a combat controller and a SEAL. Upon arriving, their aircraft was heavily hit and took a hard landing. After landing, SrA. Cunningham quickly tended to the wounded soldiers. During the attack, he crossed the line of fire seven times, moving his patients to safety. While tending to his patients, SrA. Cunningham was fatally wounded but continued to treat his men for the next seven hours, as well as passing along vital information about their conditions until he lost consciousness.

SrA. Cunningham was the first pararescue jumper to die in combat since the Vietnam War. He saved ten lives that day. Cunningham was posthumously awarded the Air Force Cross, only the second awarded since Vietnam.

A 1994 graduate of Farmington High School, where he participated in football, track, and swimming, SrA. Cunningham enlisted in the Navy and trained as an Aviation Boatswain's Mate. Ten months after his four-year enlistment, he entered the Air Force to become a Medical Pararescue Jumper.

"He spent his whole life preparing for that one moment," Maj. Savino said. "He was a great man. I know several soldiers who are alive today because of him."

One of SrA. Cunningham's daughters is a Folds of Honor Scholarship recipient.