Soldier Honored: James D. Doster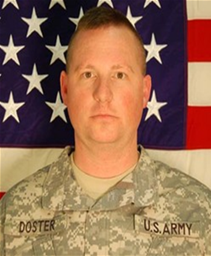 Dates:
Hometown:
Branch of Service:
Army
Rank:
Sergeant First Class
Sergeant First Class James D. Doster, 37, of Pine Bluff, Ark., was assigned to the 2nd Battalion, 16th Infantry Regiment, 4th Infantry Brigade Combat Team, 1st Infantry Division, Fort Riley, Ks., and served during Operation Iraqi Freedom. On September 29, 2007, SFC Doster died when insurgents attacked his unit using an improvised explosive device and small-arms fire in Baghdad, Iraq.

SFC Doster, a What Hall High School graduate, left for Iraq in February 2007. He had joined the Army 17 years ago during his second year at Hendrix College and served mostly as a recruiter. SFC Doster served in the Gulf War and was in one of the first tanks on the battlefield in that conflict. During his service, his awards included the Bronze Star Medal, Purple Heart, Army Commendation Medal with three Oak Leaf Clusters, the Army Achievement Medal with three Oak Leaf Clusters, the Army Good Conduct Medal with 5 knots.

"James is remembered as a lively, funny and resourceful teenager who loved to ride his three-wheeler at full speed," a family member said. "He loved the Army and was determined to serve and possibly die with honor. James never regretted getting shipped out, nor would he have regretted how he came home – he died with honor."

"James was a wonderful, patient husband and daddy to two sweet daughters. He loved the Army, dids not complain about his circumstances and was always looking for ways to make things better for his men," his wife said.

SFC Doster's daughter is a Folds of Honor Scholarship recipient.