Soldier Honored: Scott R. Ball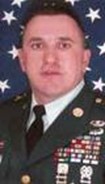 Dates:
Hometown:
Branch of Service:
Army
Rank:
Master Sergeant
Master Sergeant Scott R. Ball, 38, of Mount Holly Springs, Penn., was assigned to the 55th Brigade of the Pennsylvania Army National Guard, and served during Operation Enduring Freedom.  On August 27, 2007, MSgt. Ball was killed when his convoy was attacked during a resupply mission in Jalalabad, Afghanistan.

A 1988 graduate of West Perry High School, MSgt. Ball attended HAAC, where he excelled in all his academics.  In 1992, he reported to Fort Leonard Wood, Mo., for basic training and completed Airborne School shortly after.  MSgt. Ball was assigned to the 82nd Airborne and served during Desert Storm. After transferring to the Army National Guard, he was assigned to Germany and shortly after his assignment, finished air assault school.  Among the many medals and awards he received during his career, were the Bronze Star medal and the Purple Heart.

In 2000, MSgt. Ball graduated from the Pennsylvania State Police Academy and became a PA State Trooper.  He was a member of the State Police Motorcycle Unit and served as a field-training officer who mentored new troopers.  "We looked to him to put his stamp on our younger members of the unit because we wanted them to emulate his performance," said Sgt. Jonathan Mays.  "We look to the best among us to fill that role as an educator and he certainly was one of those."

MSgt. Ball's son is a Folds of Honor Scholarship recipient.