Soldier Honored: John C. Beale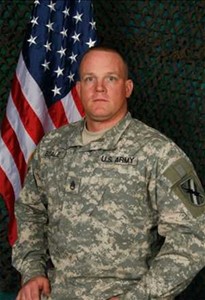 Dates:
Hometown:
Branch of Service:
Army
Rank:
Sergeant First Class
Sergeant First Class John C. Beale, 39, of Riverdale, Ga., was assigned to the 1st Battalion, 108th Reconnaissance, Surveillance and Target Acquisition Squadron, 48th Infantry Brigade Combat Team of the Georgia Army National Guard, and served during Operation Enduring Freedom. On June 4, 2009, SFC Beale died of wounds suffered from an improvised explosive device and small arms fire near Kakar, Afghanistan.

SFC Beale graduated from Riverdale High school. He served in the United States Army from 1991-1994 during Operations Desert Shield and Desert Storm. He later joined the Georgia Army National Guard in 2005 after a strong desire to return to military service. Throughout his long military career, SFC Beale was awarded the Bronze Star Medal, the Purple Heart, War on Terrorism Service Medal, Afghanistan Campaign Medal, among many others.

In his civilian life, SFC Beale was very involved with various youth programs and liked to participate in career days at local schools. "My dad inspired me to be strong and brave. He was a smart man and he taught me and my brother things like chess that taught us strategy and patience," his daughter said. "He was a tough but loving father, always wanting what was best for me and my brother. He loved my mother, and I could always tell by the way they interacted with each other that they were soulmates."

SFC Beale's daughter is a Folds of Honor Scholarship recipient.