Soldier Honored: Clayton D. McGarrah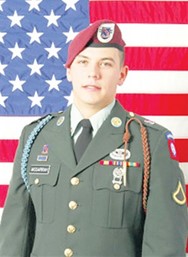 Dates:
Hometown:
Branch of Service:
Army
Rank:
Specialist
Specialist Clayton D. McGarrah, 20, of Harrison, Arkansas, was assigned to the 2nd Battalion, 508th Parachute Infantry Regiment, 4th Brigade Combat Team, 82nd Airborne Division at Fort Bragg, N.C., and served during Operation Enduring Freedom.  On July 4, 2010, Spc. McGarrah died when his unit was attacked in Arghandab, Afghanistan.

Spc. McGarrah joined the Army in September 2009 and attended One Station Unit Training at Fort Benning, Ga. Upon completing OSUT, he attended Airborne School at Fort Benning and reported to Fort Bragg April 10, 2010, where he was assigned to 2nd Battalion, 508th PIR. He joined the unit in Afghanistan in June. Spc. McGarrah's awards and decorations include the Bronze Star Medal, the Purple Heart, the Army Good Conduct Medal, the National Defense Service Medal, the Afghanistan Campaign Medal, the Global War on Terror Service Medal, the Army Service Ribbon, the Overseas Service Ribbon, the NATO Medal and the Parachutist's Badge.

Spc. McGarrah loved his wife, Fox News, hiking, hunting, football, UFC Tapout, gaming, eating out, spending time with his Dad and Mom, and he loved attending Razorback games with his brother James.  "Clayton D. McGarrah was a bright young man with a promising future in the Army," said Captain David Christmas, Spc. McGarrah's commander. "He had not been with us more than a week but was already stepping up as a rifleman to the demanding task in a harsh combat environment."

Spc. McGarrah's wife is a Folds of Honor Scholarship recipient.