Soldier Honored: Kermit O. Evans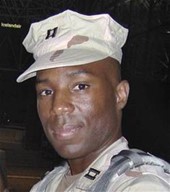 Dates:
Hometown:
Branch of Service:
Air Force
Rank:
Captain
Captain Kermit O. Evans, 31, of Hollandale, Mississippi, was assigned to the 27th Civil Engineer Squadron at Cannon Air Force Base, New Mexico and served during Operation Iraqi Freedom. On December 3, 2006, Capt. Evans and three other servicemen were killed when the Marine Corps CH-46 helicopter they were riding in made an emergency water landing in western Anbar province, Iraq.

Capt. Evans graduated third in his class from Simmons High School and went on to Mississippi State University, where he graduated with a degree in Civil Engineering in 2000. He enlisted in the Air Force in 2001 and was promoted to captain in November 2005.

Capt. Evans was an avid sports fan and athlete who was kind and giving - someone who liked to help other people. "He also had an inquisitive personality that probably landed him in his military career as an explosive ordnance disposal technician dismantling explosive devices," his mother said.

"The Cannon EOD flight and EOD career field are going to miss a great leader, mentor and friend. Captain Evans' comrades will always remember the big smile he had on his face since setting off his first detonation," said Master Sergeant Hailer, 27th FW EOD flight chief. "It never wore off. He had it on everyday he was here, no matter how mundane the task."

Capt. Evans' son is a Folds of Honor Scholarship recipient.