Soldier Honored: Richard J. Gannon II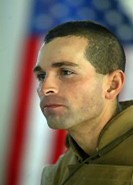 Dates:
Hometown:
Branch of Service:
Marine Corps
Rank:
Major
Major Richard J. Gannon II, 31, of Escondido, Calif., was assigned to the 3rd Battalion, 7th Marine Regiment, 1st Marine Division, I Marine Expeditionary Force at Twentynine Palms, Calif., and served during Operation Iraqi Freedom. On April 17, 2004, Maj. Gannon was killed while helping another wounded Marine during a firefight in Anbar province, Iraq.

Maj. Gannon graduated among the top 3 percent of his class from Escondido High School in 1991. He attended Cornell University on a Navy scholarship, graduating in only three years with a double major in political science and history. He attended the Naval Academy for advanced leadership courses. He accepted a commission as a Marine officer and enlisted in January 1995. Maj. Gannon, who had been recommended for a Purple Heart, participated in the 2003 capture of Baghdad. For his efforts in aiding a wounded Marine, Maj. Gannon was posthumously awarded a Silver Star and a Bronze Star.

"He was a very goal-oriented person, but he matured beyond achievement," his father said. "He was an exemplary leader. When he was with you, he was present, which is a very rare quality with young people."

One of Maj. Gannon's sons is a Folds of Honor Scholarship recipient.