Soldier Honored: Danial R. Adams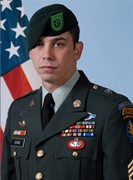 Dates:
Hometown:
Branch of Service:
Army
Rank:
Master Sergeant
Master Sergeant Danial R. Adams, 35, of Portland, Ore., was assigned to the 1st Battalion, 10th Special Forces Group (Airborne) in Stuttgart, Germany. On September 13, 2011, MSgt. Adams was killed when insurgents attacked his unit with mortar, machine-guns and small arms in Wardak province, Afghanistan.

MSgt. Adams joined the Army in 1995 as an infantryman, serving as a team and squad leader while stationed at Fort Richardson, Alaska. He emerged as a talented leader and gifted athlete, winning unit iron man contests along the way. MSgt. Adams earned his Green Beret in 2005 and served his first Special Forces Assignment was as a senior medical sergeant with the 3rd Special Forces Group out of Fort Bragg, N.C. In 2009, he transferred to Stuttgart, where he deployed once to Iraq and twice to Afghanistan.

Known as "Slim" for his slight build, MSgt. Adams is remembered as a loving husband, devoted father, and an exceptional Special Forces warrior. "He was renowned for his physical fitness," Lt. Col. Isaac Peltier said. "His reputation as a warrior and outstanding medic preceded him."  During downtime on his last tour of Afghanistan, MSgt. Adams had started talking about how this could be his last combat tour. A veteran of five tours in Iraq and Afghanistan, he had hopes of making up for lost time with his wife and three children.

MSgt. Adams' wife is a Folds of Honor Scholarship recipient.