Soldier Honored: Richard L. Berry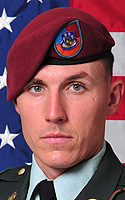 Dates:
Hometown:
Scottsdale, AZ
Branch of Service:
Army
Rank:
Staff Sergeant
Army Staff Sergeant Richard L. Berry, of Scottsdale, Arizona, was assigned to the 508th Special Troops Battalion, 4th Brigade Combat Team, 82nd Airborne Division, based in Fort Bragg, North Carolina. On July 22, 2012, he died of wounds caused by an improvised explosive device in Zharay, Afghanistan, in support of Operation Enduring Freedom. He was 27 years old and on his third deployment.

Staff Sergeant Berry joined the Army in February of 2006 as a combat engineer. He had previously been deployed to Iraq from September 2006 to November 2007 and Afghanistan from August 2009 to February 2010, also with the 4th BCT, 82nd Airborne Division. During his previous deployment, he earned his first Purple Heart when an IED blast destroyed their Humvee. Within a few months of his injury, he rejoined the Diablo & Sapper Teams, and attended Airborne & Sapper Schools before going thru the Urban Master Breacher Course, from which he was the honor graduate. His unit considered him a tremendous leader, paratrooper and man.

Staff Sergeant Berry's awards and decorations include the Bronze Star Medal, the Purple Heart with Oak leaf cluster, and the Army Commendation Medal with four Oak leaf clusters, to name a few. He was a loving husband, son, brother, and friend.