Soldier Honored: James D. Nehl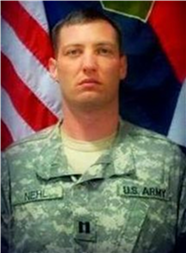 Dates:
Hometown:
Gardiner, Oregon
Branch of Service:
Army
Rank:
Captain
Captain James Nehl of Gardiner, Oregon was assigned to 2nd Battalion, 16th Infantry Regiment, 4th Brigade Combat Team, 1st Infantry Division out of Fort Riley, Kansas. He moved there in 2012 with his wife and young son from Fairbanks, Alaska where they were both stationed. Captain Nehl deployed with the 2-12 IN BN in May 2012 to Afghanistan in support of Operation Enduring Freedom. He took Company Command in August 2012 while deployed.

On November 9, 2012, CPT James Nehl was on duty in Gelan, Afghanistan. His unit came under enemy fire while they were on a dismounted patrol. When the team's radio operator was shot in the chest Captain Nehl left his covered positon to bring the soldier to safety. At that point, Nehl himself was shot. He managed to radio for help and pull the hurt soldier to safety before dying from his own wounds.