Soldier Honored: Bret D. Isenhower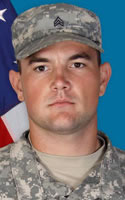 Dates:
Hometown:
Lamar, Oklahoma
Branch of Service:
Army
Rank:
Sergeant


Sergeant Isenhower was assigned to 1st Battalion, 279 Infantry Regiment, 45th Infantry Brigade Combat Team, Oklahoma National Guard, based in Tulsa, Oklahoma. He served in Iraq in 2007 and 2008. On September 9, 2011, Sergeant Isenhower was on a mission in the Zurmat district Pakita, Afghanistan in support of Operation Enduring Freedom. His unit was attacked by enemy forces using small arms fire. He and two other Oklahomans were killed in action that day.

Sergeant Isenhower grew up in Lamar, Oklahoma. He graduated from Seminole High School in 2003 and matriculated in East Central University. He worked as a volunteer firefighter at Seminole Fire Department and at the Seminole County 911 Dispatch before joining the Oklahoma National Guard. Sergeant Isenhower is remembered as a great role model to kids and adults alike; always showing kids as much care and attention as he could. Former teachers remember him as a student who would always keep in touch. He is survived by his parents and two sisters.