Player: Mychael O'Berry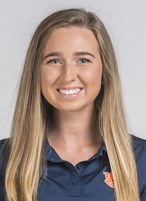 Hometown:
Hoover, Alabama
University:
Auburn University
Area of Study:
MBA Grad Student
Expected Graduation:
2022
Soldier Honored:
Timothy M. Conneway
SEC Community Service Team (2020) 

2019-20 (JUNIOR - CANCELED, COVID-19) 



Played in seven events, finished with final scoring average of 74.05


One of three players to play in all 19 rounds, shot par or better in five rounds


Earned fourth-career Top-5 finish, T-3, at Lake Oconee Invitational, 71-71-72=214 (-2)


Fired a season-low 70 (-2) at Cougar Classic and Mason Rudolph Championship


Placed T-19 at Mason Rudolph Championship, 76-70-73=219 (+3)


Defeated Duke's Ana Belac, 5&4, in semifinals at East Lake Cup


2018-19 (SOPHOMORE)


Played in 12 events; finished with a 74.06 scoring average, second-best on the team


One of three players to play in all 31 rounds; shot par or better in 12 rounds


Best finish in team competition was 4th at Alexa Stirling Intercollegiate, 71-75-72=218 (+2)


Shot 54-hole-low 213 to pace Auburn at the Darius Rucker Intercollegiate; finished T-5


Closed out stroke play T-16 at SEC Championship, 75-71-74=220 (+4)


Defeated Arkansas' Dylan Kim, 3&2, to clinch victory in SEC quarterfinals


Rallied from three holes down to win NCAA quarterfinal match vs. Texas' Sara Kouskova, 1-UP


Finished season ranked No. 76 nationally by Golfstat


2017-18 (FRESHMAN)


Competed in six events; season scoring average was 75.50


Best finish in team competition was T-28 at Evans Derby Experience, 73-73-72=218 (+2)


Low round of the season at Battle at the Beach with a final-round 70


Placed T-37 at UCF Challenge (75-76-73=224) and Bryan National Collegiate (74-78-77=229)


Finished T-54 in first collegiate tournament at Maryb S. Kauth Invitational, 75-76-78=229 (+13)


Prior to Auburn
2015 Birmingham Metro Golfer of the Year ... Helped Hoover HS to two AHSAA state titles ... Finished tied for eighth at the North & South Amateur ... Third-place finish at the 2016 AJGA Huntsville Junior ... Low career round is a 68 (-4).
Personal
Parents are Mike and Cathy O'Berry ... Has a sister, Leah ... Home course is Ross Bridge.