Player: Chuan-Tai (Teddy) Lin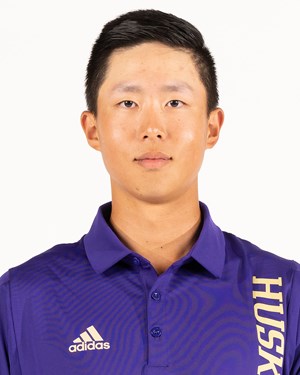 Hometown:
New Taipei City
University:
University of Washington
Area of Study:
Undecided
Expected Graduation:
2024
Soldier Honored:
John E. McGee
2020-21 (Freshman):



One of three Huskies to compete in all 10 events, posting a 72.90 scoring average to rank fourth on the team


Shot four rounds in the 60s, including a season-best 67 twice. Shot under par 10 times..


Tied for 22nd at the NCAA Cle Elum Regional, tying for first among Husky competitors.


Lone top-10 finish came in the Pac-12 Championships, tying for eighth with a 7-under four-round total of 281.


Finished second among Huskies in five tournaments, including the Pac-12 Championship.


Shot even-par 210 at the Goodwin to finish top-20.


Finished under par at the Gators Invitational (-1, 290) to tie for 42nd.


Notched a top-20 result finishing 18th at the Ameri Ari Invitational.


Junior Golf


Chuan-Tai 'Teddy' Lin was ranked as high as 113 by the World Amateur Golf Ranking (WAGR)


Took home the title at the 2020 YEANGDER National Amateur Open in August


Won the Taiwan National Spring Tournament in March 2020


Placed 24th at the 2019 Asia Pacific Amateur Pacific


Finished in the top 25 at two AGJA Events … tying for 11th at the 2019 Thunderbird Invitational Junior and tying for 21st at the 2019 C.T. Pan Junior Championship.


Internationally, finished fourth at the 2018 Malaysian Amateur Open, 14th at the 2018 Youth Olympics and 16th at the 2019 Australian Master of the Amateurs.