Player: Christian Banke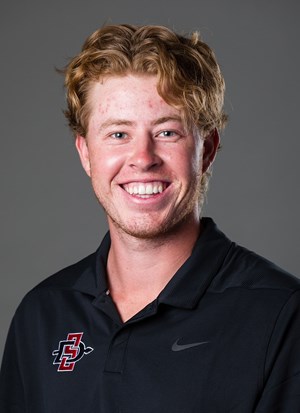 Hometown:
Danville, Ca.
University:
San Diego State University
Area of Study:
Sociology
Expected Graduation:
2021
Soldier Honored:
Jude C. Mariano
This spring he enjoyed an auspicious debut for the Scarlet and Black as an individual competitor at the Arizona Medalist, tying for sixth after shooting a 4-over 220, highlighted by a season-best 67 in the final round (Jan. 29-30) ... Earned his first collegiate start at The Prestige at PGA West, where he was the team's No. 1 finisher ... Carded a 5-over 147 (71-76) in the wind-shortened event to tie for 33rd (Feb. 15-17) ... Also cracked the SDSU starting five at the Southwestern Invitational, where he tied for 61st with a 19-over 235 (Feb. 26-27) ... Participated as an unattached golfer in his final appearance of the year at the team's own Lamkin San Diego Classic, tying for 85th with a 14-over 230 (March 12-13). During the 2017-2018 season, he competed in four tournaments during the spring schedule, posting a 75.64 scoring average in 11 rounds played ... Recorded three rounds at or below par.