Soldier Honored: Jude C. Mariano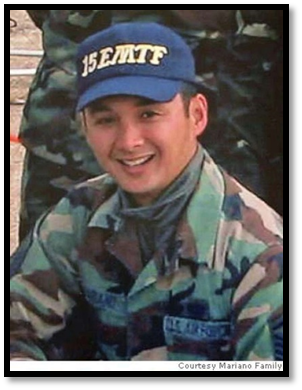 Dates:
Hometown:
Branch of Service:
Air Force
Rank:
Master Sergeant
Air Force Master Sergeant Jude C. Mariano, 39, of Vallejo, California, was a computer specialist assigned to the 615th Air Mobility Operations Squadron, Travis Air Force Base, California, and served during Operation IRAQI FREEDOM.  Mariano deployed on January 5th and later died on February 10, 2004, from injuries he had sustained in a motor vehicle accident in Doha, Qatar. His brother, Navy Warrant Officer Gilbert Mariano, accompanied his body home from Qatar to Northern California.

MSgt Mariano was following a family tradition when he enlisted in the Air Force after graduating from Vallejo High School in 1983.  After completing Communications Technical School and excelling as an Information manager, MSgt Mariano volunteered for an assignment at Osan Air Force Base in Korea.  MSgt Mariano was awarded the Meritorious Service Medal with an oak leaf cluster, Air Force Commendation medal with 4 oak leaf clusters, Joint Service Commendation Medal, Air Force Achievement medal, as well as several other medals for his service and sacrifice.

"Mom wanted us to go to college," said Gerard Mariano, his older brother.  "But we were pretty proud of our lineage."  About 35 of MSgt Mariano's relatives, including his two brothers and his father, have served in the military, in every U.S. conflict since World War II."

Two of MSgt Mariano's children are Folds of Honor Scholarship recipients.