Player: Walker Lee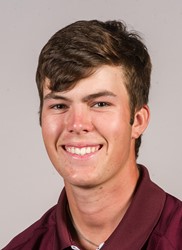 Hometown:
Houston, TX
University:
Texas A&M
Area of Study:
Business
Expected Graduation:
2021
Soldier Honored:
George T. Alexander Jr.
Before A&M



Junior Golf Scoreboard rankings regarded Lee as the No. 2 player in the state of Texas as well as the No. 18 player nationally

Named a 2016 All-American by the American Junior Golf Association (AJGA)

Member of the 2015 Jackie Burke Cup Team

Earned medalist honors at the 2016 PGA Junior Series Championship at The Air Force Academy

Individual champion at the 2013 AJGA Harvey Penick Invitational and was the runner-up at both the 2013 AJGA David Toms Invitational and 2015 AJGA Patrick Reed Invitational

Carded eight wins on the Texas Junior Golf Tour and two on the Texas Legends Junior Golf Tour

Holds three course records [Champions Golf Club – Cypress Creek (Houston, TX), Eisenhower Golf Club (Colorado Springs, CO) – 63 and Owatonna Country Club (Owatonna, MN) – 64].