Player: Maximilian Herrmann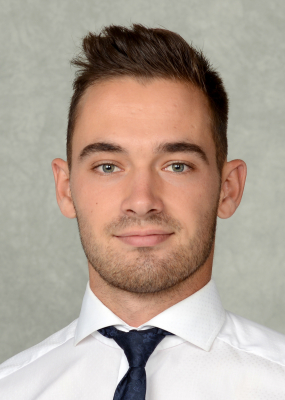 Hometown:
Atlanta, GA
University:
Georgia State University
Area of Study:
Business Administration
Expected Graduation:
2018
Soldier Honored:
Terry D. Wagoner
2016-17 (Junior)



Finished the season with a 74.00 scoring average, fourth-best on the team, after earning top-12 finishes in three of the last four regular season tournaments

Tied for 16th at the AutoTrader.com Collegiate Classic, shooting a second-round 68

Tied for sixth at the Bandon Dunes Invitational, shooting 71-70-70

Finished tied for 12th at The Hootie at Bulls Bay with rounds of 71-73-70

Placed in a tie for eighth at the 3M Augusta Invitational with three-straight rounds of 70

Defeated Troy's Cam Norman 1up to help the Panthers to a Sun Belt Championship Semifinals win

Recorded two top-10 finishes and four top-25 finishes while recording 12 rounds under par, third-most on the team.

2015-16 (Sophomore)


Earned All-Sun Belt First Team honors after playing in 11 tournaments, earning a pair of top-10 finishes and seven top-25 finishes, to go along with a 72.64 scoring average, the third-best on the team

Capped a remarkable sophomore season with a win at the Sun Belt Conference Championship, defeating teammate JJ Grey and Troy's Calum Masters in a one-hole playoff

Led the team with a tie for 11th at the UNCG Bridgestone Collegiate, shooting back-to-back 69s in the final two rounds

Finished tied for 15th at the Schenkel Invitational, shooting 68-69-72, helping GSU to a first round 274 which was the third-lowest team score in program history

Tied for fourth at the Furman Intercollegiate, shooting a career-low 66 in the second round, along with setting a career-low three-round score of 209

Won both matches in Sun Belt Match Play, defeating South Alabama's Brooks Rabren 4&2 and Troy's Cam Norman 1-up

Recorded seven rounds in the 60s while compiling a 579-244-41 record.

2014-15 (Freshman)


Finished freshman season playing in 10 events, earning one top-10 and six top-25 finishes, including each of his first five tournaments played

Scoring average of 73.36 which ranked second on the team

Began career with a tie for 25th at The Invitational at Kiawah Island, closing with rounds of 71-74

Tied for 11th at the GSU-hosted AutoTrader.com Collegiate Classic, shooting 75-67, with the 67 serving as a season-low

Tied for fourth at the Savannah Quarters Intercollegiate, an individual event hosted by Chattanooga

Tied for 17th at the Sun Belt Championship shooting 72-73-73.