Soldier Honored: Terry D. Wagoner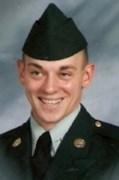 Dates:
1979-September 14, 2007
Hometown:
Piedmont, South Carolina
Branch of Service:
Army
Rank:
Staff Sergeant
Staff Sergeant (SSG) Terry "Daniel" Wagoner, 28, was a dedicated father and the "middle child with a sister on each side" from Piedmont, South Carolina. He had no doubts about enlisting into the U.S. Army which he did shortly after graduating from high school. He had a highly decorated career receiving multiple awards to include the Combat Action Badge. He was deployed to Iraq three times during his career - his last in 2007. SSG Wagoner was last assigned to the 6th Squadron, 9th U.S. Cavalry, 3rd Brigade Combat Team, 1st Cavalry Division, Fort Hood, Texas. He and three others died on September 14, 2007 in Baghdad of wounds sustained when an improvised explosive device detonated near their vehicle during combat operations.

While attending Woodmont High School, SSG Wagoner excelled in running track. He ran the 400 and 800 and was ranked statewide. His decision to enter the military followed a tradition of five uncles who also served. "Daniel knew what he was doing," said his father. "He was doing the right thing!"

SSG Wagoner is survived by his wife and daughter who are Folds of Honor Childers's Fund scholarship recipients.