Soldier Honored: Thomas Allen Baysore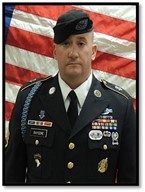 Dates:
September 26, 2013
Hometown:
Milton, PA
Branch of Service:
Army
Rank:
Staff Sergeant
Staff Sergeant Thomas Allen Baysore was assigned to Charlie Company, 1st Battalion, 506th Infantry Regiment, 4th Brigade Combat Team, 101st Airborne Division, at Fort Campbell, as a squad leader.  SSG Baysore was killed by an enemy combatant wearing an Afghan National Army Uniform who opened fire on a group of soldiers on September 26, 2013. He was struck on the left side of his neck.

SSG Baysore joined the Army in June 2001 and was stationed at Camp Ederle, Italy, where he had various assignments. This was his third deployment to Afghanistan. He deployed once prior to arriving at Fort Campbell, Ky., in 2005, and again with the Division in 2010. He also deployed to Iraq in March 2003.  During his military career, SSG Baysore received numerous awards, including three Army Commendation Medals, five Army Achievement Medals, Valorous United Award, Army Superior Unit Award, four Army Good Conduct Medals, National Defense Service Medal, three Afghanistan Campaign Medals, Iraq Campaign Medal with Arrowhead, Global War on Terrorism Service Medal, two Noncommissioned Officer Professional Development Ribbons, Army Service Ribbon, NATO Defense Medal, U.S. Army Basic Recruiter Badge-Gold with three Star Sapphires, Combat Infantryman's Badge, Expert Infantryman's Badge, Air Assault Badge, Parachutist Badge, Parachutist Badge with Distinguished Device, Bronze Service Star and Expert Marksmanship Badge. In addition to these awards, SSG Baysore was awarded a Bronze Star and Purple Heart for his ultimate sacrifice to his country.

SSG Baysore enjoyed motorcycles, guns, his BMW, snowboarding in the Alps, and traveling. Most of all, he enjoyed spending time with his son, playing with cars, planes and helicopters.  His son recalls, "he was always teaching me about respect, honor and how to always believe in myself."

SSG Baysore's son is a Folds of Honor Scholarship recipient.