Soldier Honored: Stephen A. Bertolino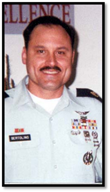 Dates:
Died November 9, 2003
Hometown:
Orange, CA
Branch of Service:
Army
Rank:
Staff Sergeant
Staff Sergeant Stephen A. Bertolino, 40, was assigned to the Aviation Intermediate Maintenance Troop, Regimental Support Squadron, 3rd Armored Cavalry Regiment, based at Fort Carson, Colorado.  SSG Bertolino volunteered to go on a mission in place of one of his soldiers on November 29, 2003.  On the way back from the mission an improvised explosive device went off in front of them, which caused the caravan to stop. Seconds later they were ambushed, and he was one of three men to die that day.

SSG Bertolino graduated in 1982 from Granite Hills High School in El Cajon.  He always had the desire to serve in the military, following in the footsteps of his father and his grandfather. SSG Bertolino's career took him to Hunter Army Airfield in Savannah, Ga., where he volunteered as a Chatham County reserve deputy sheriff.  He put himself through the sheriff's academy training and volunteered regularly to help.  SSG Bertolino deployed to Iraq just days after burying his mother who died of cancer.  His fellow soldiers remember him as a good and kind person who would do anything to help others. SSG Bertolino was awarded a Purple Heart, Bronze Star and Meritorious Service Medal.

"My father was a very generous and caring man. I remember him feeding the homeless, putting aside his work for his children, and treating my mom with the utmost respect. If he ever saw someone on the side or the road he would always stop to see if he could help them. My dad taught me to respect others and address my elders as ma'am and sir," SSG Bertolino's daughter fondly recalls.

Two of SSG Bertolino's children are Folds of Honor Scholarship recipients.