Soldier Honored: Horst G. Moore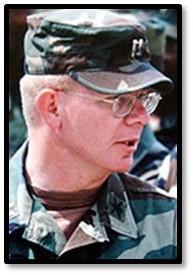 Dates:
Hometown:
San Antonio, TX
Branch of Service:
Army
Rank:
Major
U.S. Army Major Horst G. Moore, 38, of San Antonio, Tex., was assigned to the 1st Battalion, 24th Infantry Regiment, 1st Brigade, 25th Infantry Division (Stryker Brigade Combat Team), of Fort Lewis, Wash.  He was serving as an Air Defense Artillery Officer in Iraq under Operation Iraqi Freedom. On November 9, 2004, MAJ Moore was killed when enemy mortar rounds detonated within his unit's living area.

Born into a military family in Berlin, Germany, MAJ Moore was raised in Oklahoma. He was a career soldier whose 16 years of service started right after high school and was interrupted only to pursue a college degree.  He met his wife while at St. Mary's University in San Antonio. When he was home, he loved to spend time with her and their 2-year-old daughter, she said. He also loved to work on his old trucks.

MAJ Moore was known for earnestly asking, "How's it going Chief?" Known for his friendliness and genuine concern for others, the greetings were always accompanied by a big, broad smile. Those around MAJ Moore couldn't help but feel better after running into him, no matter how much was on their plate, no matter what else was going on around them.

MAJ Moore is survived by his wife and daughter, who is a recipient of the Folds of Honor Children's Fund scholarship.