Soldier Honored: Bradley S. Bohle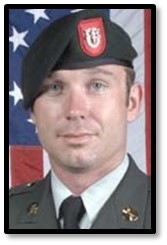 Dates:
Died September 16, 2009
Hometown:
Glen Burnie, MD
Branch of Service:
Army
Rank:
Sergeant First Class
Army Sergeant First Class Bradley S. Bohle, 29, of Glen Burnie, Md., was assigned to the 3rd Battalion, 7th Special Forces Group, Fort Bragg, N.C.  He died on September 16, 2009 of wounds sustained when enemy forces attacked his vehicle with an improvised explosive device.  He was on patrol in Ghur Ghuri, Afghanistan when the attack occurred.

A graduate of North County High School in 1998, SFC Bohle enlisted in the military shortly thereafter. His goal was to be a Green Beret. With great effort and perseverance, SFC Bohle completed the Special Forces Qualification Course some ten years later. He was a Medical Sergeant in the 7th Special Forces Group and was on his second deployment to Afghanistan.  He was also deployed twice to the Philippines.

SFC Bohle exhibited many strengths throughout his life and service, including kindness, humility and perseverance. Above all these things, he was a dedicated father to his three girls. They will live their lives knowing that they were loved and cherished. His life was dedicated to their success and to spending time showing them love, teaching them about life, and being their protector.

SFC Bohle is survived by his wife and three daughters, one of whom is a Folds of Honor scholarship recipient.