Soldier Honored: Thomas M. Surdyke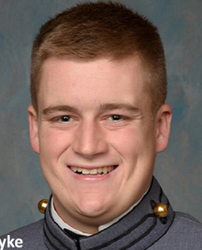 Dates:
Died June 28, 2006
Hometown:
Festus, Missouri
Branch of Service:
West Point
Rank:
Cadet
Cadet Surdyke, of Festus, Missouri, died on June 28, 2006, following heroic actions to save a friend, a non-swimmer, from drowning in a rip tide off Southampton, New York.

As his friend struggled to breathe, Cadet Surdyke stayed underwater keeping him afloat until help could arrive, and in the process ingested sea water and died a few days later.

Tom was born on July 4, 1987 and attended Pius X High School before entering West Point.  Weeks prior to the accident, Tom told his buddies, "When I die, I hope it is in saving someone's life."    His heroic actions resulted in being awarded the Soldier's Medal, the highest non-combat award for valor.

A Memorial Leadership Scholarship Fund was established at his high school in his honor.