Soldier Honored: Carlos Alonzo Benitez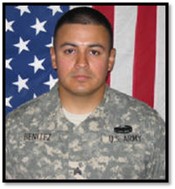 Dates:
Died October 14, 2010
Hometown:
Carrolltown, Texas
Branch of Service:
Army
Rank:
Staff Sergeant
Staff Sergeant Carlos Alonzo Benitez was assigned to the 7th Squadron, 10th Cavalry Regiment, 1st Brigade Combat Team, 4th Infantry Division, at Fort Carson, Colorado.  SSG Benitez served during Operation Enduring Freedom.  While conducting combat operations between Moqur and Darreh-Ye-Bum, Afghanistan, insurgents attacked his unit with an improvised explosive device.  SSG Benitez and two other service members were killed in the attack on October 14, 2010.

A native of Carrollton, Texas, SSG Benitez had a long-time dream of serving in the military and was finally able to enlist in 2004.  SSG Benitez was first stationed at Fort Hood, where he completed two year-long tours in Iraq.  He served in the Army for nearly six years before deploying to Afghanistan in July of 2010. Among the awards, medals, and citations he was awarded for his heroism were: The Bronze Star Medal, A Purple Heart, Army Good Conduct Medal, National Defense Service Medal, Afghanistan Campaign Medal with Bronze Service Star, Iraq Campaign Medal with 3 Bronze Service Stars, Global War on Terrorism Service Medal, Non-Commissioned Officers Professional Development Ribbon, Army Service Ribbon, 3 Overseas Service Ribbons, NATO Medal, Valorous Unit Award, Combat Action Badge, Combat and Skill Badge, Basic Marksmanship Qual Badge as Expert, and 4 Overseas Service Bars.

SSG Benitez was a kind and friendly man. He enjoyed spending time with his wife, son and daughter. His son recalls, "My dad was the toughest and most respectful man I knew. My dad believed strongly on body language and manners; he always pushed those two things on me when he was alive. He was a very serious person when the time called for it but was also a huge goofball."  He was known as the rock of the family.

SSG Benitez's son is a Folds of Honor Scholarship recipient.