Soldier Honored: George A. Wood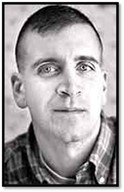 Dates:
November 20, 2003
Hometown:
Marcy, NY
Branch of Service:
Army
Rank:
Captain
Captain George A. Wood, 33, was assigned to B Company, 1st Battalion, 67th Armor Regiment, 2nd Brigade, 4th Infantry Division (Mech), Fort Hood, Texas.  CPT Wood was killed when his tank rolled over an explosive device in Iraq on November 20th, 2003, in Baqubah, Iraq.

CPT Wood was no ordinary man. He earned his bachelor's degree at Cornell, where he was an award-winning lineman on the Big Red varsity football team.  He went on to SUNY Cortland to get his master's degree in the Classics and finished up at SUNY Albany to get his second master's in Ancient Roman Military History.  It was in Albany that he joined the ROTC. In 1997, CPT Wood graduated with his second master's degree; he led four tanks in Iraq and hoped to use the experience of leading troops to help him prepare for a doctorate. CPT Wood was commissioned as an Army Officer in 1997.  He had dreams of becoming a teacher and coach at The U.S. Military Academy at West Point.  Even while serving his country, CPT Wood was a true scholar – discovering two Roman forts and publishing articles over them prior to being deployed to Iraq.

His daughter recalls "he was the kind of man that preferred spending time with his family over time with his friends. My mom and dad would spend their weekends together taking short trips to fun places with me. From SeaWorld to Barnes and Noble, they spent all their time together and with me."  CPT Wood's wife remembers him as a man people were drawn to.  She said "He was the type of man to always make sure you knew he loved and cherished you."

CPT Wood's daughter is a Folds of Honor Scholarship recipient.