Soldier Honored: Joseph T. McCloud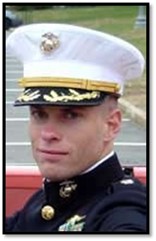 Dates:
Died December 3, 2006
Hometown:
Grosse Pointe Park, MI
Branch of Service:
Marine Corps
Rank:
Lieutenant
Joseph McCloud, 39, of Grosse Pointe Park, Michigan died on December 3rd, 2006 when the CH-46 helicopter he was in crashed in Anbar province, Iraq.

LtCol McCloud graduated from the University of Tennessee. He enlisted in the Marine Corps in 1990 just in time for Desert Storm and served on the USS Missouri. During his career, LtCol McCloud worked at the Pentagon, did a fellowship on Capitol Hill, and served as an instructor at the Marine Corps Officer Candidate School in Quantico.

LtCol McCloud was a devoted husband, father, son, and a Marine's Marine, who believed freedom is precious and well worth protecting. There were very few things that he loved more than the Marines, except his wife and children.  He is survived by his wife, Maggie, and their children, Hayden, Grace and Meghan.

All three of the McCloud children are Folds of Honor Scholarship recipients.