Soldier Honored: Elijah J.M. Rao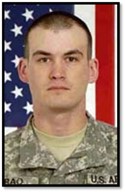 Dates:
Died on December 5, 2009
Hometown:
Lake Oswego, Oregon
Branch of Service:
Army
Rank:
Sergeant
Sergeant Elijah J.M. Rao, 26,  was an intelligence analyst and patrol crew member assigned to the 2nd Battalion, 77th Field Artillery Regiment, 4th Brigade Combat Team, 4th Infantry Division, in Fort Carson, Colorado.  On December 5, 2009, while supporting Operation Enduring Freedom, SGT Rao died of wounds suffered when enemy forces attacked his unit with an improvised explosive device in the Alin Gar District, Western Nuristan, Afghanistan.

SGT Rao grew up in Eagle Creek and graduated from West Linn High School in 2001. His steady and tender spirit was clear from the time he was born. He was a loving son, brother, grandson and loyal friend. Compelled by the events of 9/11, Elijah was determined to make a difference and, at the age of 21, joined the U.S. Army.  For his actions in combat Sgt. Rao received the Bronze Star and the Purple Heart.  Elijah was called to be a soldier and every day he performed his duties and responsibilities with respect, courage and honor.

He found strength in his faith in God and the love of his family. Elijah enjoyed music, computers and spending time with those he loved.  "I know he was doing what he wanted to do," said his mother, Sharon Hauerken. "He would turn around and go back to Afghanistan if he had to."

SGT Rao's daughter is a Folds of Honor scholarship recipient.