Soldier Honored: Paul M. Latourney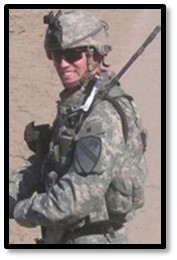 Dates:
Died March 2, 2007
Hometown:
Roselle, IL
Branch of Service:
Army
Rank:
Staff Sergeant
Army Staff Sergeant Paul M. Latourney, 28, of Roselle, Ill., Was assigned to the 2nd Battalion, 5th Cavalry Regiment, 1st Brigade Combat Team, 1st Cavalry Division, Fort Hood, Tex.  He served as a cavalry scout in Baghdad under Operation Iraqi Freedom.  On March 2, 2007, SSG Latourney and another soldier were killed when an improvised explosive device detonated near their vehicle while they were on combat patrol.

Growing up on military bases, SSG Latourney learned to speak four languages and never doubted that one day, he would be a soldier. By the time he graduated from Lake Park High School, he had already survived boot camp and joined the Army reserves.  SSG Latourney was frequently out doing patrols night and day, and he knew the risk.

During his military career, SSG Latourney was been decorated with nearly a dozen medals and ribbons. They include the Army Commendation Medal, Army Achievement Medal, Army Good Conduct Medal, National Defense Service Medal, Armed Forces Expeditionary Medal, Global War on Terrorism (Expeditionary) Medal, Global War on Terrorism (Service) Medal, Humanitarian Service Medal, Non-Commissioned Officer Professional Development Ribbon and the Army Service Ribbon.

SSG Latourney's son is the recipient of a Folds of Honor Children's Fund Scholarship.